Wonderful skills and techniques for creating pots that do not exist outside of Tokoname
The pursuit of excellence for a craftsman is based on a foundation of knowledge and skills which have been developed over successive generations. This is true for the creation of bonsai containers as much as it is for the bonsai themselves, and those pots created in Tokoname have a long history and are recognised the world over the standard of excellence. Ceramic production in the Tokoname area dates back to the 12th Century and it is on this foundation and tradition that bonsai pots were first created on an industrial scale over a hundred years ago.
Designing bonsai ceramics has always been a process of working with professional bonsai growers to develop usable styles, shapes and sizes that work from an aesthetic perspective and allow the trees to grow in a healthy way. The proximity of Tokoname to the large bonsai community in Aichi prefecture has allowed such collaboration to occur, resulting in a wide range of pots which have come to define the look and style of Japanese bonsai for enthusiasts around the world.
Over the last ten years the appreciation of ceramics in the West has become an important part of the pursuit of bonsai, and for those who look to pursue the Japanese aesthetic, the gold standard is Tokoname. The current generation of potters are revered as master craftsmen and their finest works are sought after as the level of bonsai practice throughout the world increases. This is due to the usability, classical design and build quality of Tokoname pots.
The attention to detail and clay quality is unsurpassed in modern bonsai ceramic production throughout the world, creating pots that are both incredibly light and thin, yet strong and frost resistant. Many of the more difficult to create shapes and sizes such as very large and shallow ovals can only be found in Tokoname, as can the consistency of colour and texture for both glazed and unglazed pots. These are skills and techniques that do not exist outside of Tokoname, making it rightfully the recognised home and centre of excellence for Japanese bonsai ceramic production.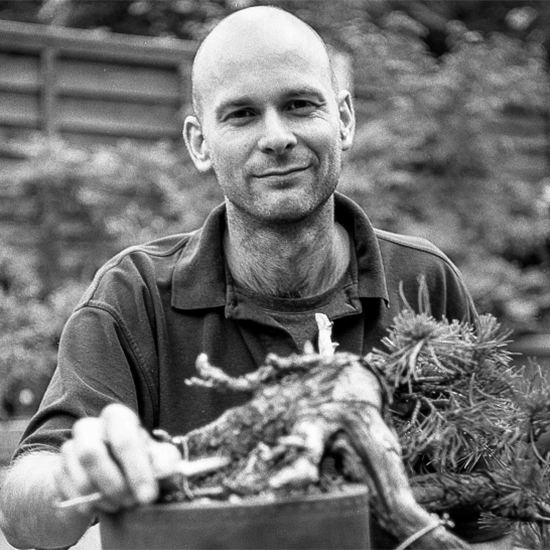 Peter Warren
Peter Warren is a London based British bonsai professional who undertook a traditional six year apprenticeship under the world famous master Mr. Kunio Kobayashi at his nursery in Tokyo, Shunkaen Bonsai Museum. After graduating in 2009 Mr. Warren has been teaching and working with enthusiasts around the world and establishing his own nursery on the outskirts of London.